FAMILY
ACTIVITIES
Activities designed for you to enjoy with your family, recommended for all ages, and always related to the National Park and its surroundings, taking advantage of its rich cultural heritage.
THE HONEY TOUR
It is a place dedicated to the world of honey, where the process of making it is explained in an entertaining way (from the moment the bees go searching for flowers to the moment honey is bottled). Through glass beehives, you'll be able to see what the life of bees is like, and how they undertake their everyday activities
ADDRESS:
33578 Barrio el Pedrosu, Alles (Peñamellera Alta) ASTURIAS.
CONTACT:
985415987 / 659240751
www.auladelamiel.com
info@auladelamiel.com
OPENING HOURS:
1 July to 1 September:
Every day at 12:00 and at 19:00 (only with reservation).
Bank holidays and Easter:
At 12:00 and at 19:00 (only with reservation).
Rest of the year:
Only with telephone reservation.
PRICES:
Guided visit + menu of the beekeeper
(one day ahead reservation): 21€.
Guided visit + tasting of "tortos" (type of corn chapatis) and honey
(only with reservation): 7€./li>
Children under 7 years old
(maximum two children/adult): Free.
CHEESE AND CIDER TOUR
This gastronomic and cultural tour introducing Cabrales cheese and Asturian cider is an excellent way to find out about traditional ways of life. Brothers Manuel and Javier Niembro offer a tour of approximately two hours in which you visit a Cabrales cheese producer, a cave, and a cider-press house, as well as different areas of the Asturian rural world. At the end of the tour, you will sample traditional Asturian products in an "espicha", which is a meal based on a variety of local food (approx. 2 hrs.).
ADDRESS
Sidrería Casa Niembro, Asiego, concejo de Cabrales (ASTURIAS).
GPS
43.325958,-4.862952
CONTACT
985 845 001
OPENING HOURS:
Mornings (11:30) and evenings (19:00)
IMPORTANT
It is important to phone and book to ensure a place on the tour. People without a reservation may also do the tour, but only if space is available on an existing tour.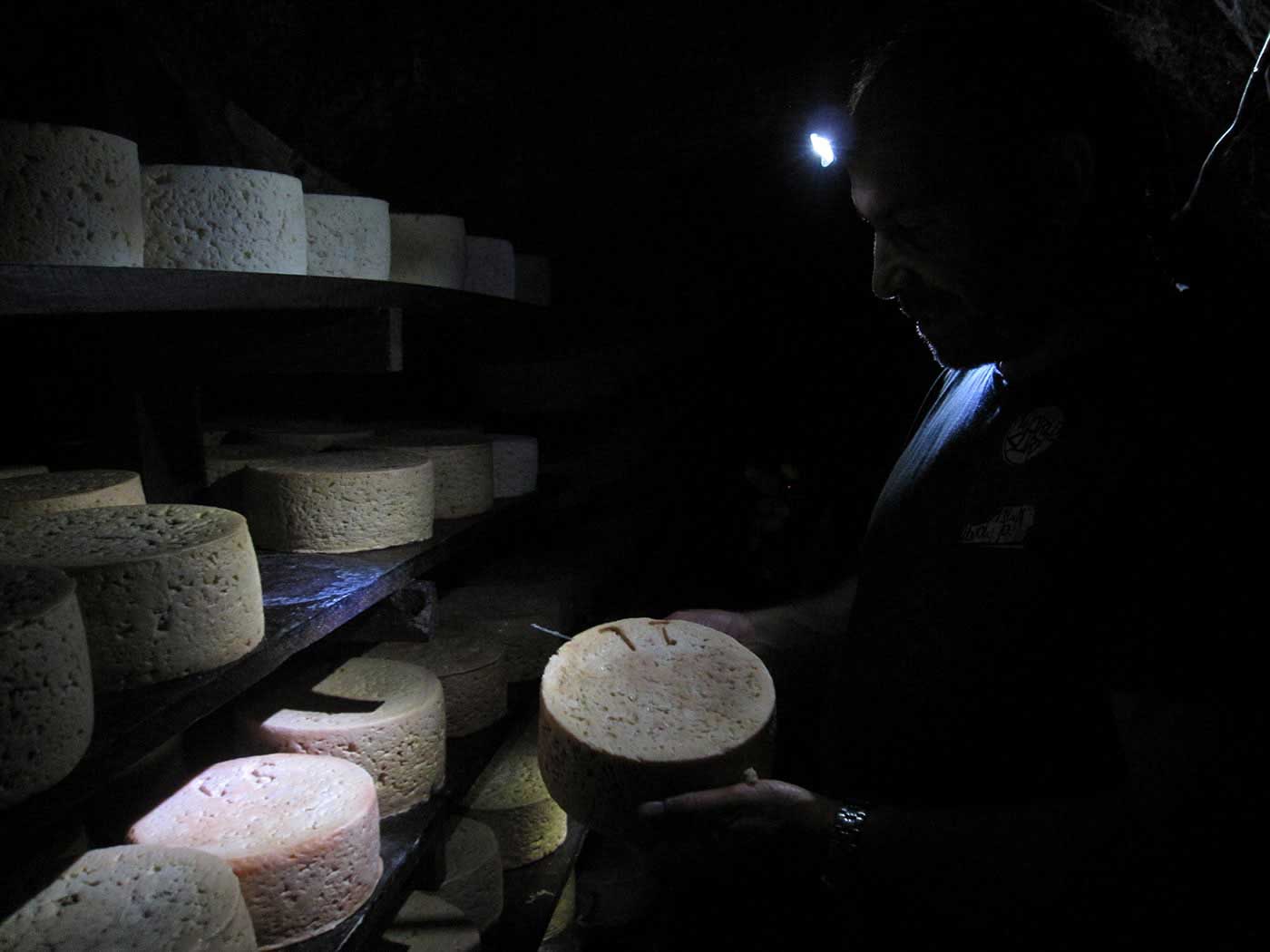 PEPIN'S ROUTE ('La Ruta de Pepín')
Pepin's Route is a cultural and gastronomic route in rural Asturias, discovering the way of life in a typical Asturian village, and one of the best activities for children in Asturias.
This route consists in an accompanied descriptive walk around the village, observing its architecture: "hórreos" and "paneras" (granaries), traditional houses and balconies, etc., a visit to a cider-press house to learn about the history of cider and its consumption while enjoying a tasting, and a visit to a "mayada" (high pasture) where a replica of a shepherd's hut is shown. The making of Gamoneu cheese is explained, and the shepherd's culture that continues in present times. There are native breeds of domestic animals that thrive in the green hills: "Pita Pinta" chicken, "Asturcón" pony, and "Xalda" sheep. The last part of Pepin's Route is dedicated to the gastronomy, and consists of an "espicha" (meal based on a variety of food) with traditional Asturian products.
ADDRESS:
Sirviella, municipality of Onís (ASTURIAS).
CONTACT:
608 784 763
www.pepin.es
latorraya@latorraya.com
OPENING HOURS:
Every day in Easter, July, August, and national bank holidays.
Mornings: 11:00 to 14:30.
Evenings: 19:00 to 21:30.
PRICES:
Adults: 24€ (food included).
Children (3 to 12 years old): 10€ (food included).
Special prices for groups with 15 adults or more.
Previous reservation (limited number of spaces).
FAMILY BIKING ROUTES
Despite the Picos has tough terrain for biking, in the areas surrounding the National Park (and especially in the Llanes coast), it's possible to do small biking routes with all the family. The Coastal Trail is a signalled 30-km route that follows the coastline between Ribadedeva and Ribadesella going through spectacular beaches and limestone cliffs. It's a perfect itinerary to do walking and biking with children since it is generally level, and you can stop to discover hidden places, beautiful beaches, and small rural villages.
BICYCLE RENTAL AND ROUTES FOR FAMILIES
S-cape Travel Turismo Activo
ADDRESS:
33554 Arenas de Cabrales (ASTURIAS).
CONTACT:
676 293 945 / 669 063 506
www.s-cape.es/turismoactivo
PRICES:
Mountain Bicycle 25€/day.
Road bicycle 25€/day.
Bicycle for children 15€/day.
Electric bicycle 50€/day.
Bicycle kit (helmet, pump, inner tube, tyre changing equipment) 5€/day.
Also:
Repair service. Bring us your bike if you need to repair it or carry out improvements.
Cycling shop. We sell a great variety of accessories for bicycles.
Information on routes. We will also provide advice on which biking routes you can do in the area, and give you detailed information of the suggested itineraries.