GASTRONOMIC
EXPERIENCES
Enjoy excellent traditional food made with the best quality natural products, and discover the "secrets" of its artisanal production.
CHEESE AND CIDER TOUR
This gastronomic and cultural tour introducing Cabrales cheese and Asturian cider is an excellent way to find out about traditional ways of life. Brothers Manuel and Javier Niembro offer a tour of approximately two hours in which you visit a Cabrales cheese producer, a cave, and a cider-press house, as well as different areas of the Asturian rural world. At the end of the tour, you will sample traditional Asturian products in an "espicha", which is a meal based on a variety of local food (approx. 2 hrs.).
ADDRESS
Sidrería Casa Niembro, Asiego, municipality of Cabrales (ASTURIAS).
GPS
43.325958,-4.862952
CONTACT
985 845 001
OPENING HOURS
Mornings (11:30) and evenings (19:00)
IMPORTANT
It is important to phone and book to ensure a place on the tour. People without a reservation may also do the tour, but only if space is available on an existing tour.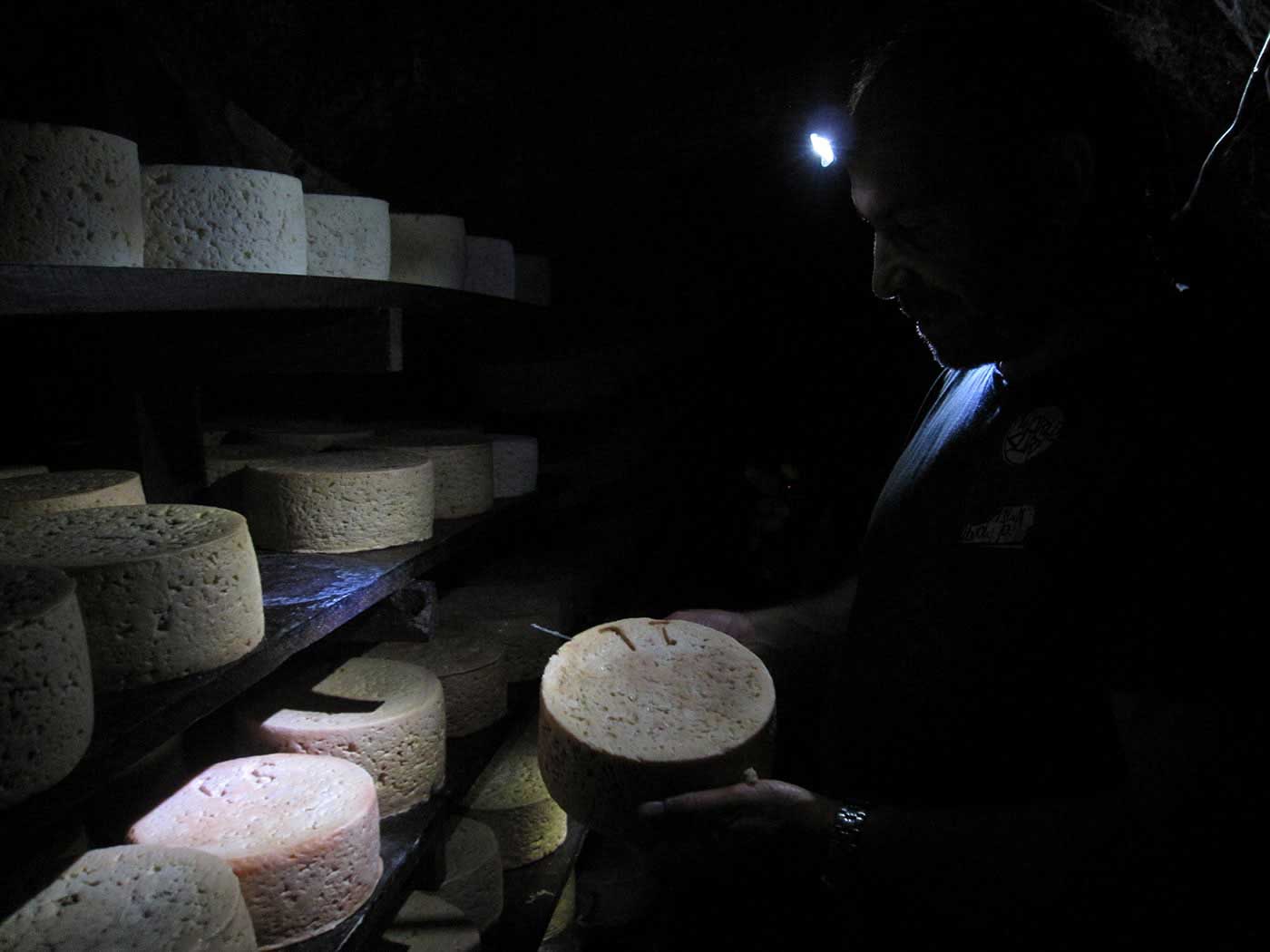 VISIT TO CHEESE PRODUCERS
Cheeses from the Picos de Europa occupy a special place among artisanal cheeses of Spain. There are four Designations of Origin (Picon Bejes-Tresviso, Quesucos de Liébana, Cabrales, and Gamoneu) and two Protected Geographical Indications (Queso de Valdeón and Los Beyos) making this small area of Spain hold one of the largest concentrations of cheese seals of quality.
Cabrales and Picon Bejes-Tresviso, along with the blue cheese from Valdeón, form the group of the great blue cheeses of the country. Picos de Europa is the territory par excellence in the production of this type of blue cheeses as the high level of humidity found in the limestone caves favours the development of the Penicillium fungus. Another cheese of exceptional quality and that is considered one of the biggest gastronomic treasures of the region is Gamoneu.  It is a low production cheese, made with a mix of cow, goat, and sheep milk. The Designation of Origin accepts two types: either from the valley or from the upper pastures. The cheese from the upper pastures matures in natural caves, and is only made in summer with milk from the animals that graze in the high mountain pastures. The valley one can mature in natural or artificial caves, and is produced all year round.
"LAS BRAÑAS DE LIÉBANA" CHEESE PRODUCER. DESIGNATION OF ORIGIN "QUESUCOS DE LIEBANA".
39584 Pendes, in the municipality of Cillórigo de Liébana (CANTABRIA)
 942 730 862     942 744 412     quesosvelarde@telefonica.net  www.queseriapendes.com
The cheese factory has large windows where you can watch the whole cheese-making process of the "Quesucos de Liébana". It also has a shop with cheese display, as well as a tasting section, and the direct sale of the products they make.
"MAÍN" CHEESE PRODUCER DESIGNATION OF ORIGIN "CABRALES".
Sotres, in the municipality of Cabrales (ASTURIAS)
 618 938 044     queseriamain@quesosdecabrales.es  www.quesosdecabrales.es
In this cheese factory, they show you the cheese-making process. Then you visit a cave (which gives it its distinctive flavour) where they explain the conditions to mature the cheese. At the end of the visit, there's a tasting of the two types of cheese, served with curd and jam along with natural cider.
DURATION: Approximately 1 hour.
OPENING HOURS: July to September: 12:00, 16:00, and 18:00.
PRICES: 7.95€ per person (free for children under 6 years old). For groups of more than 12 people, 6€ per person.
"CÁNDIDO ASPRÓN". CHEESE PRODUCER DESIGNATION OF ORIGIN "GAMONEU".
Bobia Baju, in the municipality of Onís (ASTURIAS). Gamoneu del Valle Cheese Producer.
Belbín, Lagos de Covadonga (ASTURIAS). Gamoneu del Puertu Cheese Producer.
 985 844 002     candidoaspron@gmail.com
"PICOS DE EUROPA" CHEESE PRODUCER. PROTECTED GEOGRAPHICAL INDICATION "QUESOS DE VALDEÓN".
24915 Travesía de Prada, 2. Posada de Valdeón (LEÓN)
 987 740 514     cwww.quesospicosdeeuropa.com
"LA COLLADA" CHEESE PRODUCER. PROTECTED GEOGRAPHICAL INDICATION "LOS BEYOS".
33558 Cirineo, Amieva (ASTURIAS)
 985 944 657     queserialacollada@gmail.com
Guided visit to its facilities, where you will learn about the process from reception of the raw materials to the processing and maturing rooms. There is a tasting of its six varieties of cheese, served with natural cider. You'll be given a cheese made with cow milk, one made with goat milk, and one made with sheep milk as a souvenir of your visit.
OPENING HOURS: 10:00 to 14:00.
THE HONEY TOUR
It is a place dedicated to the world of honey, where the process of making it is explained in an entertaining way (from the moment the bees go searching for flowers to the moment honey is bottled). Through glass beehives, you'll be able to see what the life of bees is like, and how they undertake their everyday activities.
ADDRESS:
33578 Barrio el Pedrosu, Alles (Peñamellera Alta) ASTURIAS.
CONTACT:
985415987 / 659240751
www.auladelamiel.com
info@auladelamiel.com
OPENING HOURS:
1 July to 1 September:
Every day at 12:00 and at 19:00 (only with reservation).
Bank holidays and Easter:
At 12:00 and at 19:00 (only with reservation).
Rest of the year:
Only with telephone reservation.
PRICES:
Guided visit + menu of the beekeeper
(one day ahead reservation): 21€.
Guided visit + tasting of "tortos" (type of corn chapatis) and honey
(only with reservation): 7€.
Children under 7 years old
(maximum two children/adult): Free.
PEPIN'S ROUTE
Pepin's Route is a cultural and gastronomic route in rural Asturias, discovering the way of life in a typical Asturian village, and one of the best activities for children in Asturias.
This route consists in an accompanied descriptive walk around the village, observing its architecture: "hórreos" and "paneras" (granaries), traditional houses and balconies, etc., a visit to a cider-press house to learn about the history of cider and its consumption while enjoying a tasting, and a visit to a "mayada" (high pasture) where a replica of a shepherd's hut is shown. The making of Gamoneu cheese is explained, and the shepherd's culture that continues in present times. There are native breeds of domestic animals that thrive in the green hills: "Pita Pinta" chicken, "Asturcón" pony, and "Xalda" sheep. The last part of Pepin's Route is dedicated to the gastronomy, and consists of an "espicha" (meal based on a variety of food) with traditional Asturian products.
ADDRESS :
Sirviella, municipality of Onís (ASTURIAS).
CONTACT:
608 784 763
www.pepin.es
latorraya@latorraya.com
OPENING HOURS:
Every day in Easter, July, August, and national bank holidays.
Mornings: 11:00 to 14:30.
Evenings: 19:00 to 21:30.
PRICES:
Adults: 24€ (food included).
Children (3 to 12 years old): 10€ (food included).
Special prices for groups with 15 adults or more.
Previous reservation (limited number of spaces).